Self-cleaning properties (elements)
Clean facades, roofs and windows - just by the power of light and rain. TitanProtect® coatings not only degrade organic dirt particles, they also very effectively prevent the growth of algae and moss on the coated surfaces.
By TitanProtect® the sun is able to degrade dirt particles. Water does not form any annoying drops but a thin water film which covers the entire surface. Rain water will be able to wash out dirt and to flush it off in large part. Thus, usual cleaning cycles can substantially be extended. This will considerably save cleaning costs and will protect the environment.
It is striking, but a surface coated with TitanProtect® is also capable of decomposing more than 85 % of all harmful exhaust gases such as nitrogen oxides (NOx), formaldehyde, benzene and volatile organic compounds (VOCs) and is converted into harmless nitrates (gypsum, Lime, fertilizer).
A fresh-looking and clean facade is the store-sign of every residential and office building. TitanProtect® will take care of it - and for a long time. TitanProtect® coatings do not wear off as the titanium dioxide is just a catalyst. Oxygen, as a cleaning agent, is abundant in the air, and the sun will provide the energy which is required for the process. Unless the coating is scratched off, it will be sa long lasting as the facade where the coating is applied on.
Facades which are coated with TitanProtect®
are self-cleaning
are long-term ptotected against algae, moss and moulds
look like wet-painted for years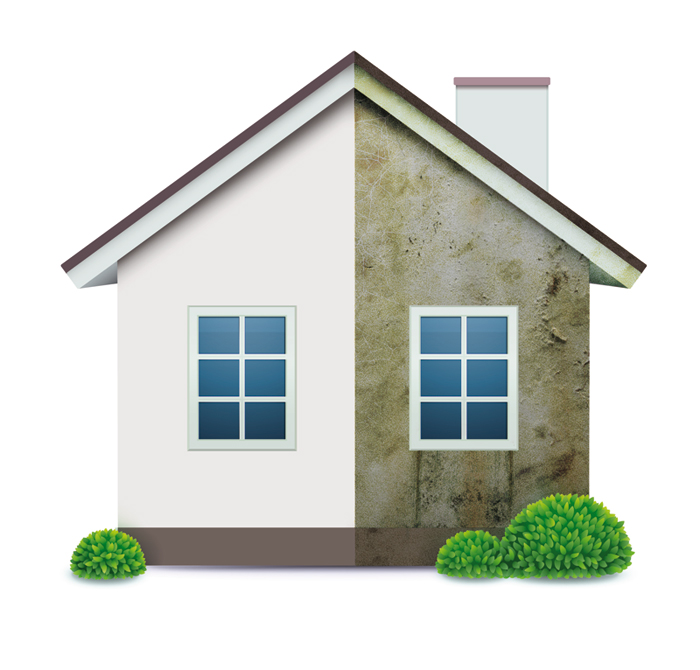 Efficient reduction of production and maintenance costs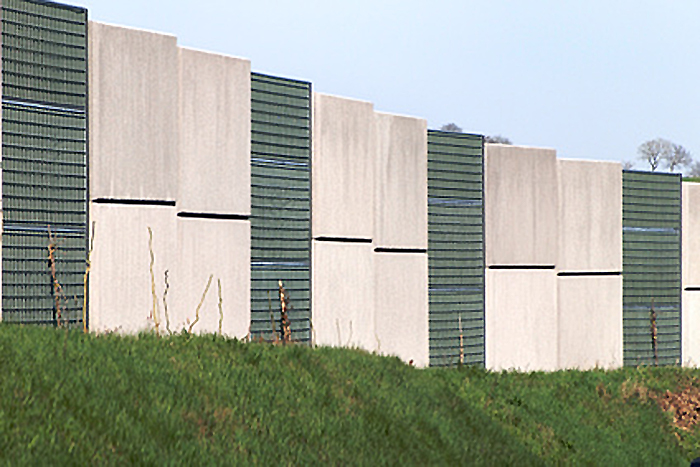 Every house owner knows: Attractive buildings have ambitious demands re. construction and maintenance. Expensive protective coatings as well as frequent cleaning and/or exterior coatings cause high costs. Quite often, thermal insulation composite systems heavThe extremely effctive insulation prevents penetration of thermal heat to the outside. ily suffer from algae deposits. While this is good to save heating costs, it causes a moist and cool exterior surface - ideal living conditions for green, brown and red algae. The combat against algae is expensive, both because or expensive biocidal paints and because of toxic algaecides which have to be applied retrospectively.
TitanProtect® coatings do not increase the manufacturing costs of the building. Because expensive protective coatings which have biocidal or algaecidal properties are not required. For plastered facades, for example, a conventional mineral paint is sufficient; TitanProtect® will then take over protection against algae and other harmful environmental influences.
TitanProtect® coatings will permanently reduce the maintenance costs of the building. Because extensive facade cleaning and repainting are largely a thing of the past. If need be, the facade occasionally will have to be rinsed with clear water.
Permanently clean construction elements
There are numerous applications in construction, which provide huge benefits once they are coated with TitanProtect®, such as
noise barriers,
retaining walls,
stone or concrete boundary fences,
roof coverings.
Virtually all types of common construction materials can be coated with TitanProtect ®, such as
Natural stone or concrete elements,
Ceramic parts,
Elements which are made of aluminum and other metals (with or without (powder-) coating),
Components made of plastic or acrylic,
Mineral plasters and paints,
Plasters and paints with plastic parts.
Application is done by means of proven HVLP technique. Our sales and technical staff are at your disposal, in order to recommend the most suitable product type.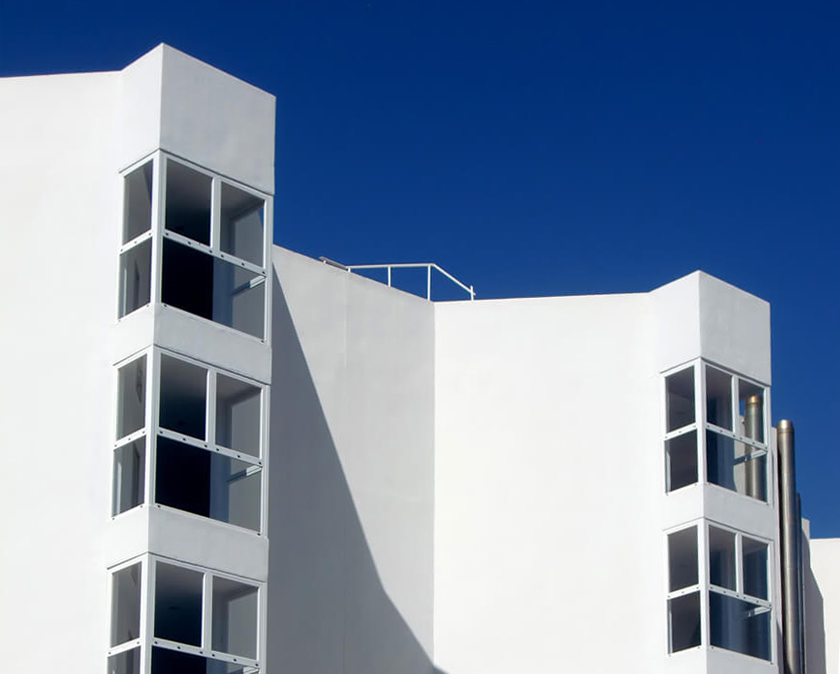 Self-cleaning glass facades and windows
Sustainably self-cleaning windows and glass facades are the dream of every house owner. With TitanProtect®, the dream can become true! Every house owner knows: Large windows and fancy glass facades make the property attractive, but cause high cleaning costs.
TitanProtect® glass coatings permanently reduce the maintenance costs of the building. Expensive glass cleaners are largely a thing of the past because there is no organic dirt which can adhere on the glass. If need be, the window or facade elements must occasionally be rinsed with clear water after long dry periods. TitanProtect® glass coatings will usually pay off after a few years by the savings in building maintenance. In addition, a inestimable advantage is that the windows and glass facades look clean and well maintained, sustainably and for a long time.
All common types of glass can be coated with TitanProtect®. Moreover, the glass should not be sealed with silicone-containing sealants, as gaseous or liquid leaking silicone can overlay our coating. However, there are several alternative sealants available in the market which are technically and economically equivalent and compatible to TitanProtect®.
Own reference